SYNCHRONISED CAM RIG FOR PHOTOGRAMMETRIC SCAN
Our scan is based on photogrammetry, i.e. 3D reconstruction from 2D images.
For a static object, only one camera is required.
For body and faces, to deal with the life model movements, we have developed a multi-cam rig with a synchronised triggering system. The rig is counting 92 DSLR and is driven by our electronic triggering system.
Synchronised multi-cam rig allows to freeze the time and capture the model while dancing, jumping or with instant face expression.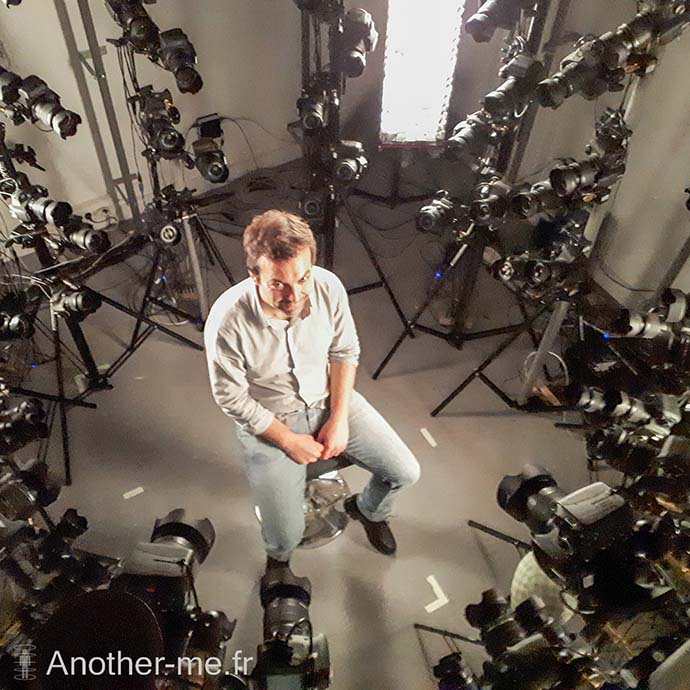 LIFE MODEL PHOTO SHOOTING
During a photo shooting with a life model, we can capture a large quantity of poses. The only limit is the amount of time the studio has been booked.
Photo triggering is via a remote control. We can manage it, or you can simply Do It Yourself.
At the end of the photo shooting, you select the poses that will be transformed in 3D model.
We scan full body in various positions: standing, laying, jumping, dansing or body details such as faces, hands, ...
RAW MODELS CALCULATIONS
3D MODEL RETOPOLOGY
The retopology step is the creation of a simplified 3D surface, called low poly mesh, with the polygons following the natural flow of the shape curvatures.
The resulting mesh is counting a few tens of thousands polygons. Retopology is made either manually or by projecting an existing topology on the raw scan.
This simplified model is used to unwrap the model and generate the texture coordinates. It is also required for the real time 3D engines. It is then subdivided to reach the needed level of details.
3D EDITING AND FINISHING WORKS
Finishing works is crucial to have a high quality model. It is a manual step where the 3D model and texture are edited to get the final model. At the end you have a 3D model of several millions polygons including folds and fine wrinkles of the skin.
The model can be delivered As Is or with reduce quantity of polygons associated with a normal map texture to generate the fine details.
This step is fully performed internally in our Paris office.
TEXTURES
We generate 8K textures (8192x8192).
As far as possible these textures are consistent, i.e. the model unwrap performed at the retopology step is try to keep the adjacent surface continuity. Texture are then logical for humans and can be edited into you preferred graphic editing software.
Diffuse colour texture is derived from the life model pictures with 3D colour editing.
We produce the following textures: diffuse, normal, displacement, ambient occlusion, cavity and glossiness.
3D MODEL FILES
Our 3D models are based on polygons (quads and/or triangles).
We usually provide a Wavefront OBJ file, including the polygons with their normal, textures coordinates and eventually material description. We can also provide FBX, WRML or STL files but the last only contains the polygons and not the texture coordinates.
We cannot produce 3D files based on shape primitives or curves such as IGES or STEP.
3D MODEL PHYSICAL OUTPUTS
If you want a physical output of your 3D model we propose two techniques:
-3D printing
A wide range of materials are now available: plastic, resin, ceramic, precious metals, iron steel. Each material has its own constraints in terms of size, shape, resolution and costs. Depending on the required schedule, costs and material, we subcontract the 3D printing to industrial companies.
-Machining
Well adapted for large size outputs in stone, marble, wood or polyurethane foam.